Update from Prepare for Change:
Cobra's Event Meditation on Saturday November 21 is a critical turning point for Gaia and all of humanity!
Saturday November 21st
3:12 PM    New York
12:12 PM  California
9:12 PM    Central Europe
3:12 AM    Taiwan
Day 1:
For maximum impact, it is important to ground yourself and focus on your breathing in order to go more deeply into this meditation.
We will be sending out short tips today through Friday in order to help everyone coordinate our efforts – so we can achieve 144,000 people participating in this all important Meditation.
Day 2:
The moment we visualize the beam of Light from our Soul Star Chakra into the Soul Star Chakra of everyone else, including the RM, is a very important part of this meditation.
It is only when we visualize this unique and collective beam of Light, that we can expand our creative intention into the grid of the planet Earth.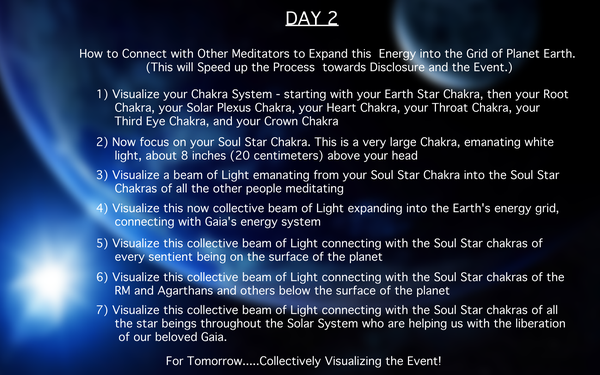 Day 3:
We are almost there – the galactic energies are strong and this Saturday is our chance to speed up the process of Planetary Liberation!
Tomorrow, an important cycle ends, and another one begins – we're in the homestretch and together we can finally break free from the dark and manifest the Golden Age.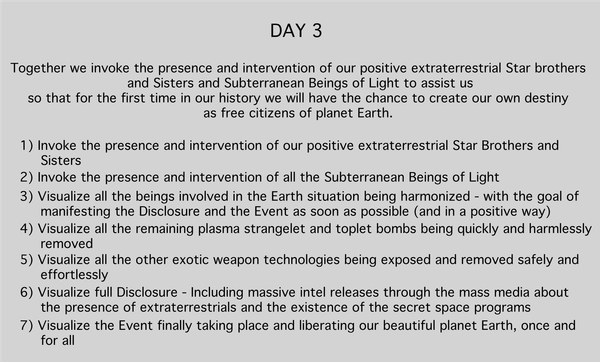 Victory of the Light!
The PFC Team
Useful Links:
http://www.thepetitionsite.com/896/743/541/the-event-meditation-planetary-liberation-victory-of-the-light/
http://2012portal.blogspot.com/2015/11/make-this-viral-event-meditation-2015.html
https://www.youtube.com/watch?v=fVCttRkxgWg&index=1&list=PLVOwQLKLBlsNHf_JfKHwPhdS9AXwwsfKQ
https://www.facebook.com/events/1523593674628244/